Hi,
Modep is not received any Midi signals via USB. Could you help troubleshoot?
Many thanks and best regards,
Check whether your controller is recognized by running amidi -l, also refresh the UI page and check the MIDI Ports settings at the bottom of the UI.
Hi,
I just got an Akai MPK Mini Play, and have it set to "internal sounds" and have it showing with your suggestion:
modep@modep:~ $ amidi -l
Dir Device    Name
IO  hw:1,0    pisound MIDI PS-3RP1Q6
IO  hw:2,0,0  MPK mini play MIDI 1

I don't see it in the "MIDI Ports" setup. I checked all the boxes to see if it will show as an actuator but no go yet. I'll keep reading posts and if I figure it out will post back.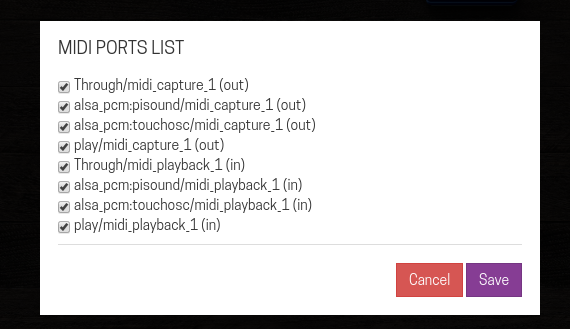 Oh, I see they show on the left when checked. And the pedal appears to need to be able to accept a midi/actuator port too. I wonder how I can get this to work as an actuator.
K, I see mine is actually called "play/midi_capture_1" and the "MIDI Learn" feature is working with it. Just that the only thing that has a proper MIDI signal is the pitch shifter/actuator. None of the keys work for the actuator I want to get going, which is for Sooper Looper.
What is a good foot switch that works with SooperLooper on PiSound w/Modep?
I use a Boss FCB1010 with the Eureka EEPROM, and it behaves exactly how I'd expect it to behave. I'm able to turn 10 different effects on/off, with the LEDs staying lit when the effect is "on". MIDI learning feature works perfect. I specifically use that pedal with a Mio MIDI in/out to USB adapter, and it's never let me down.
2 Volumes, one before and one after after the Sooper Looper, tied to each of the foot pedals on the Behringer, is very nice to have, for what I do.
Big thanks for this comment! Just looked the FCB1010 up and the Eureka EEPROM. It isn't immediately clear what the Eureka offers as an upgrade to the FCB1010. Is this something you think I would need as an enhancement if I get the FCB1010? What value is it offering you? Thanks
Getting a used FCB1010 today and will give it a go and evaluate whether or not I need to upgrade it to use the Eureka EEPROM chip. I am hoping I can use it with the Sooper Looper without the chip upgrade.
Hey Elijah,
It's been a long time since I bought that pedal and got it all set up, and I don't think I took many notes, so the details are a little fuzzy.
IIRC, the built-in firmware EEPROM chip on the FCB1010 is quite capable for SOME KINDS of midi foot triggering, but it was unfortunately very far from what I needed in order to use it with MODEP. Looking at the FCB1010 manual online (https://www.manualslib.com/manual/15060/Behringer-Fcb1010.html?page=6#manual), I'm reminded of this; it seems like the 1-10 pedals are for Program Selection and some other bits; I believe they mostly send Patch Change messages, which are not the sort of messages we need to use to engage or disengage effects on a guitar pedalboard (Control Change).
What the Eureka EEPROM does, is change the up/down foot switches into selectors to get to different ways of using/interpreting the 1-10 foot switches and pedals. IIRC, there are 5 different settings, but I usually use just one of them, because that one setting makes all the 1-10 foot switches, and the pedals, into MIDI CC signals. The foot switches can then be tied to effect on/off settings via the MIDI-Learn (in the settings for the pedal in MODEP) and the pedals can be tied to a knob via the same MIDI-Learn functionality. When the foot switch is pressed on, the programmed CC signal goes to 127, and the LED turns on for the foot switch. Click it off, and the CC goes 0 and the LED turns off. It makes it work just like the guitar pedalboard controller I was after.
Using the FCB10101 as a looper was also one of my main concerns, and I am pretty sure I needed the Eureka EEPROM to do the trick. Even after the cost of the extra EEPROM, it still wound up being my choice over any of the other boards I had been considering, and the pedal itself is of very durable construction.
Thanks @whofferbert,
I think I get it now. I just got my FCB1010 hooked up and yup, I tried to midi learn a sooper looper toggle control and it would only trigger it on, not off, so I get what you are saying now. I just ordered the Eureka EEPROM and am really looking forward to finally getting to play with a looper!
Once I get it installed and tinkered with I'll probably ask you a follow up question here.
Thanks
When you get the new chip, be very careful pulling the old one out. They are long, and kind of wide chips. If you don't have a tool to pull them, I'd suggest using a pair of channel lock or some other wide mouth pliers, and use them firmly, but gently.
If you carefully rock the chip out, back and forth the long way, you should be able to get it out without bending the pins too much. I stored the original EEPROM chip in the foam that came with the Eureka EEPROM.
Good luck!
W00TEN W00T!!!
IT IS ALIVE!!! Was able to use the PP > Effects Mode and the pedals are mapping and I was able to quickly create my first ever loop in my life with Sooper Looper on the Modep w/PiSound!!!
Thanks so much for your initial post and follow ups, this is amazing as I have wanted a looper since about 15 years ago and never could prioritize the expense, and now I feel I have something so much better than the industry standard Boss looper (the red one) as I can do all the effects and looping with one, single open device!!
Here were two threads I created with the Eureka PROM that I needed to get it working!
https://groups.google.com/forum/#!topic/eurekasound_forum/TguLiLuJ764
https://groups.google.com/forum/#!topic/eurekasound_forum/_PBhkbJqOD0