Hello,
I am just wondering if there is any way to improve my routing within the Blokas editor? Please have a look and thanks in advance for any suggestions!
I use Ableton with my multiple synths or sometimes I use MPC Live retro with my multiple synths (computer free this route). I never seem to use Ableton and MPC together.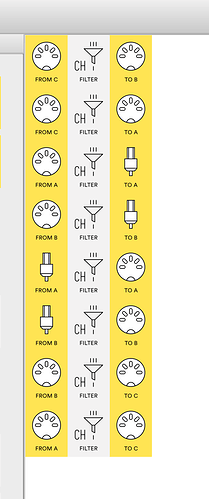 A = Pro 3 In and Out Ch 2
B = Prophet Rev 2 In and out Ch 3
C = MPC In and Out
USB A+B is to and from Abelton.
I typically send sync from either the DAW or MPC. Inside Ableton the sync setting is enabled on all 4 USB Outs for Midihub. When using the MPC, sync is set for the port coming into the Hub. I am curious whether Virtual Pipes may be more efficient here? But I do not understand them too well. The CHFilter is filtering out everything but the CH the device is set to.
Thanks!