Hi all,
last week I got my (beta) pisound: very nice! I asked a friend to print a 3D-case. For the beta I had to fix the MIDI holes and add a hole for the power plug (all done by hand and not inside the STL). Now my RPi3 with pisound fits into the case: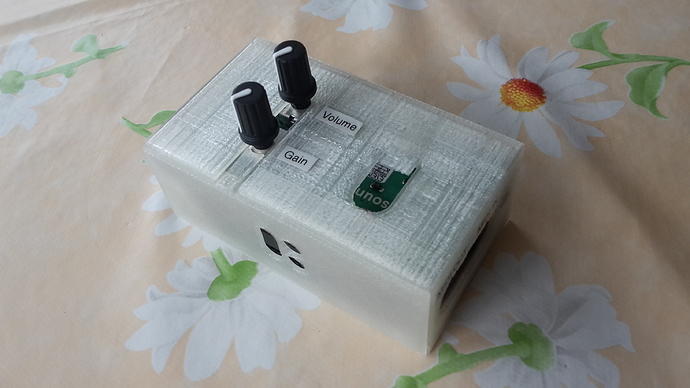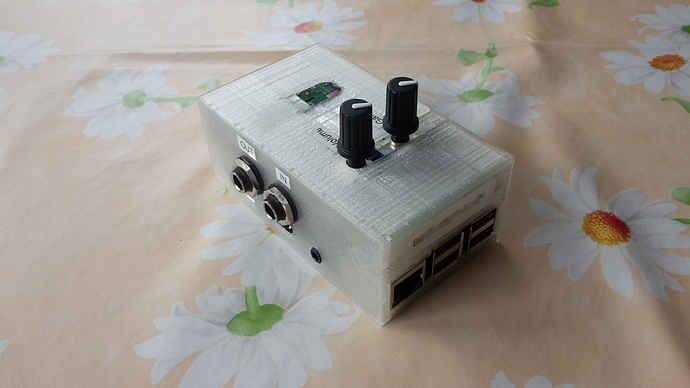 I created a SD card image based on our build scripts for Zynthian. This image fits onto a 4GB SD card.
<DISCLAIMER>
This image is based on MOD-UI - a fantastic web based user-interface and LV2 host from [MOD devices]
(http://moddevices.com) and other fine open-source software. I and MOD are not responsible for any problems or
failures of the software! If you find bugs, you can try to contact me in this forum - but my main focus is creating 
Zynthian and testing for MOD - so I cannot maintain this image. If you like MOD-UI and need support: think about
buying a MOD-Duo.
</DISCLAIMER>

Requirements for testing:
DHCP server
RPI3 (RPi2 will not work!)
PiSound
Mic/Guitar/MIDI-keyboard/… and an amplifier
Knowledge how to install an SD card image
How to test:
Download the Image (will be available until 09.05.2017): MOD-PiSound-Image (~1.7GB)
Install the image on a SD card (minimum 4GB) - if you don't know how to do this: ask google
Place the SD card in your RPi3+pisound (Yes - the software is optimized for RPi3 - so RPi2 will not work!)
Connect a network cable (without network ->no ui ->no sound!), connect a guitar/mic and/or MIDI-keyboard
Power on
Wait about 30 seconds
Connect to [YOUR-IP-ADDRESS]:8888
Use the web gui to click your effects and generators together and have fun!
To get a shell onto your RPi do the folowing:
ssh root@[YOUR-IP-ADDRESS]
(the password is pisound)
I have put some demo pedalboards onto the card: try to load them via the second button on the bottem-left.
And here is a small demo (sorry - I am not a really good guitar player) with a Marshall-Amp-Simulation:
https://soundcloud.com/codeman1309/pisound-guitar
Rock on!
Holger