Hey guys! As the Midihub birthday is coming up this weekend, we're releasing a new feature we're sure everyone will appreciate

. Introducing the real-time MIDI Monitor!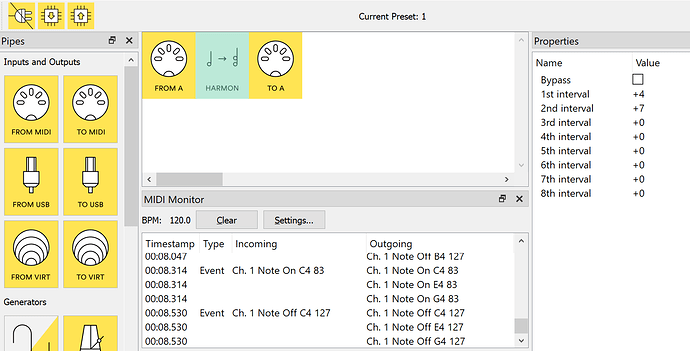 The MIDI Monitor shows all the data being processed and produced by the currently selected pipe, as well as provides a BPM estimate based on the recent Clock events. Filters can be set up to hide irrelevant events.
Downloads
1.12.2 Editor Changelog:
Fixed connecting to Midihub in Bootloader mode in rare circumstances.
1.12.1 Editor Changelog:
Fixed memory contents export and import.
1.12.0 Editor Changelog:
MIDI Monitor pane added that displays MIDI data processed by the currently selected pipe.
Insert from another preset options added.
Insert Preview will mark Virtual inputs and outpus already used in the main preset with purple squares.
1.12.0 Firmware Changelog:
Added 'Always Send Pitch Bend' parameter to Micro Scale.