Hey guys, this Editor update has, among a few other improvements, pipeline importing from other files implemented. We'd very much welcome any feedback you have about your experience with it! As this is the initial release of this functionality, we'd like to know what you think about it and whether you'd like it changed or improved in some particular way.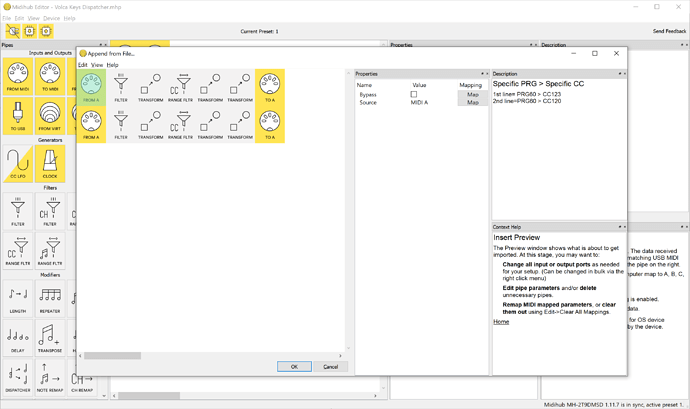 The presets can be inserted using File->Append from File or Right Click->Insert from File.
1.11.6 Editor Downloads
Detailed Changelog
Added View->Note Value Display menu, to enable changing the Middle C standard used in the pipe's properties, as well as a 'Number' option to display just plain note numbers.
Fixed an issue that could impact row reordering when opening .mhp file created with an older editor version
Added Append from File and Insert from file functionality.
When a Virtual port can't be used, suggest the closest other available letter rather than the farthest.
Added Change All Ports right click menu option, so input or output ports letter may be changed in bulk.
Added Edit->Clear All Mappings to clear all of the mappings in the preset.
The map/unmap are now undo-able.
Double clicking on a pipe will toggle the 'Bypass' parameter.