Hello,
I'm trying to use BabelPod to play records though my HomePod but I can't get any audio. I'm running the latest Patchbox beta (2020-11-23-Patchbox).
My record player is connected to the PiSound input and I'm trying to play it through the headphones. BabelPod seems to recognize the PiSound with no problems but I still don't get any audio.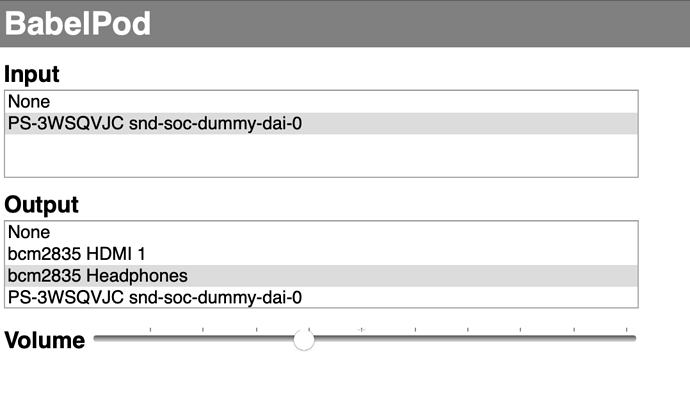 I'm trying to follow the audio chain but don't know enough to do so. Is there a way to just see if I'm getting any audio in to the PiSound? And follow that to the headphones?
Many thanks for any guidance.
RaspberryPi info:
$ uname -a
Linux patchbox 5.4.72-v7l+ #1356 SMP Thu Oct 22 13:57:51 BST 2020 armv7l GNU/Linux
$ aplay -l
**** List of PLAYBACK Hardware Devices ****
card 0: b1 [bcm2835 HDMI 1], device 0: bcm2835 HDMI 1 [bcm2835 HDMI 1]
Subdevices: 4/4
Subdevice #0: subdevice #0
Subdevice #1: subdevice #1
Subdevice #2: subdevice #2
Subdevice #3: subdevice #3
card 1: Headphones [bcm2835 Headphones], device 0: bcm2835 Headphones [bcm2835 Headphones]
Subdevices: 4/4
Subdevice #0: subdevice #0
Subdevice #1: subdevice #1
Subdevice #2: subdevice #2
Subdevice #3: subdevice #3
card 2: pisound [pisound], device 0: PS-3WSQVJC snd-soc-dummy-dai-0 [PS-3WSQVJC snd-soc-dummy-dai-0]
Subdevices: 0/1
Subdevice #0: subdevice #0