Possibility to Rename/Edit names of Labels Pipes.
Might help "visualise" routings.
Thoughts?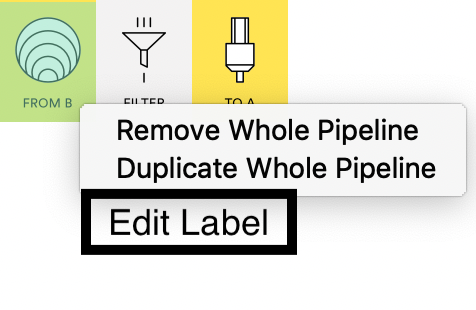 Yes, descriptions n labeling seems lacking functionality, a good point would be a description with a title for every pipeline (group of pipes). The current general preset description is at a different level and should be there also.
This could be done though, in a much more delicate way, by creating a new kind of pipe that stores just the descriptions and the title. It could be some kind of blob to save space on the device.
If not applicable as a pipe for any technical reason, just add 2 new database title/text fields per pipeline for the editor. The "pipeline" titles could be printed on screen somehow.
Essential!
Colours and name editing would help a lot.
I am sure its on the agenda
+1 to the idea of "Pipeline Titles"!
Naming inputs & outputs please!

+1 !!! I need this function badly.
Sure, see here: Port Naming - Midihub Documentation

@psyndrome:
tiny extra info – once you click Edit.. names, the Context Help window changes to show that help page there in the panel.
Like so: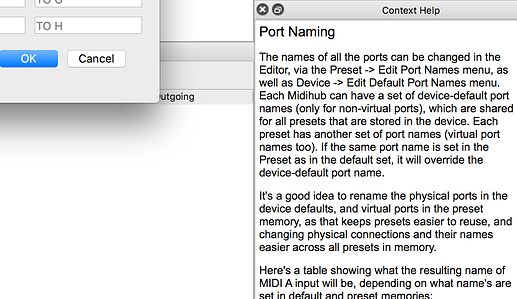 and it stays there when you click Cancel/OK. Useful for reminding you of the subtleties…
(took me nigh a year to notice this)
@Giedrius and @resonotter
Many thanks!
But this does not solve it for me.
"Renaming of the USB ports in the Editor unfortunately does not rename ports as seen by the OS, as the drivers for all major OSes ignore USB port name information as provided by the device."