Hi everyone !
Enjoying my Midihub. I generate random notes with random LFO, harmonies, chance pipe, dispatcher, etc. So cool, so fun !
Everything works fine except one pipe : scale pipe.
Because I'm not a dodecaphonic guy, I put a scale pipe for a minor scale (some degrees are mapped if I need to). Some times it works fine, scale pipe doing his job. But most of the time, it's too much of a job. It gets stuck on G and D (though at different octaves).
I've tried a few things. As I don't understand the "transpose C to Base" I click that thing and it works fine for a few seconds and it get stuck again on G and D.
In order to show you this issue, I tried to upload my patch but it seems I can't. Here's a few screenshots :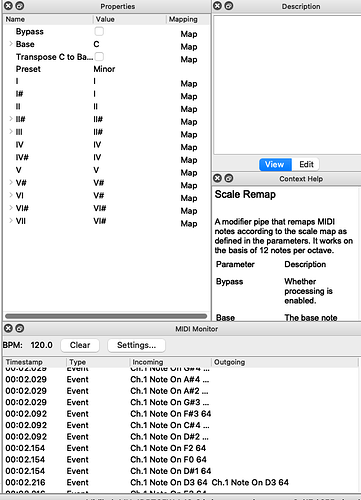 You can see that some of theses notes should be played but it discards them all except for G and D…
Thanks for your help !