Dear all,
My goal is to realize a 4 tracks loopstation using SooperLooper with an external controller (midi or osc) and Rpi as core audio device.
I installed a fresh image of PatchBox Os and make all updates automtically at first startup.
I not installed any optional package (ModeP ecc).
I try 3 different usb audio without success.
M-Audio Fasttrack c400 - No sound at all
M-Audio Fasttrack (the cheapest with 1 xlr and 1 hiz)
Works with high latency settings and crack pop sometimes
M-Audio Fasttrack Ultra
Has direct monitoring so I ear the input without latency and can set volume with alsamixer, but the loops sound bad, with some metallic sound and strange modulate/pitching issue
I try a freash raspbian with desktop, installed jackd and sooperlooper and with the Fasttrack Ultra can get 2,9ms ol latency at 88,2khz without any audio glitch.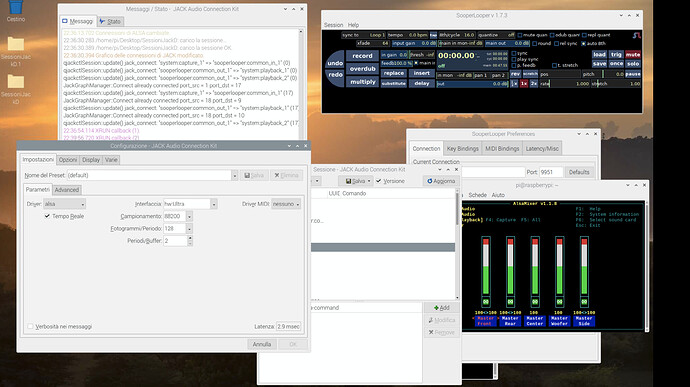 I cannot understand why I cannot get work it with patchbox os…