Hi, couple quick questions I'd appreciate a definitive answer to as I'm looking to get a pisound whenever they're in stock. I've searched around but haven't seen a good clear (to me) answer.
Impedance - with standard guitar pickups, won't the impedance mismatch cause treble bleed or other negative effects? I have read a bit about adjusting the input gain to compensate, but this seems like a different issue maybe. I know generally we want to go from lower impedance sources to higher impedance inputs. I have some things that will work as DI boxes, and 1 guitar with active pickups which should both result with good impedance values going into the pisound. But what about standard pickups? I would prefer to avoid plugging in an extra DI if possible. And that sort of brings me to my next question…

Is it possible to build sort of an "effects loop" around the pisound? Considering the IO is stereo, can I do something like this using something like this https://www.amazon.com/TISINO-Splitter-6-35mm-Stereo-Quarter/dp/B073SQ21CT? Example: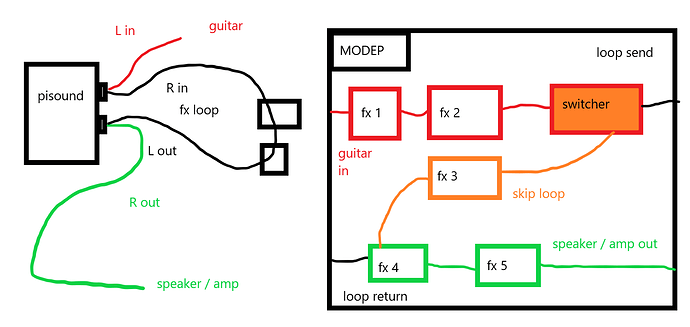 Fx 2 is probably an amp sim. Alternatively, I was thinking I might use an amp sim in the loop (analog) for high gain sounds, and then fx3 becomes my clean amp, thus I can switch "channels" by using the switcher. And if so, I guess I'd just need to be careful with the impedances and input gain on both ins. And of course, fx 4 needs to be stereo in, whatever it is. Am I crazy?
Thanks!