As a noob, I had a few head scratching moments with the ORAC Pd Gui. Seems that the 'Displayed Page Name' doesn't keep up with the selection, for instance int he Nori Sampler below the pages are Main, Sample and Other. I'm on 'Sample' but it's showing 'Main' in the display. Not a great problem but you can see the point.
The other thing I found confusing was that, if fewer than four config controls are specified on a page, then it leaves the unused slots with a non-functioning control hung over from the last page. I've started treating my fav's by putting in a "n/a", as in the Module.json below.
While I'm here, what are the ever-present 'Division' controls for?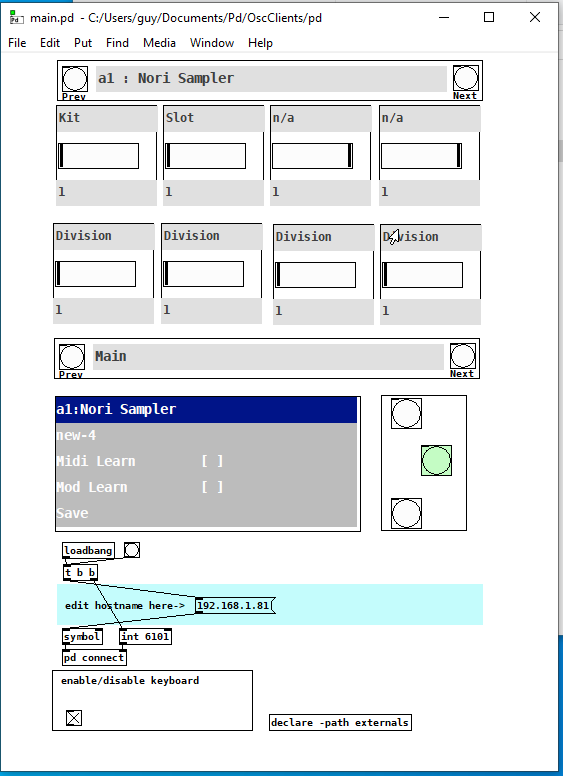 {
    "display" : "Nori Sampler",
    "parameters" :  [ 
        ["pct","n_speed","Speed",-100,100,50],
        ["pct","n_mod","Modulation",0,100,0],
        ["pct","n_start","Start Point",0,100,0],
        ["pct","n_dur","Duration",0,100,100],
        ["int","s_kit","Kit",1,12,1],
        ["int","s_slot1","Slot",1,24,1],
        ["pitch","pb_range","Pb Range",0,48,2],
        ["int","na","n/a",0,1,1]
    ],
    "pages" : [ 
        ["pg_main","Main",["n_speed","n_mod","n_start","n_dur"]],
        ["pg_sample","Sample",["s_kit","s_slot1","na","na"]],
        ["pg_other","Other",["pb_range","na","na","na"]]
    ]
}