My first impression was that I liked the minimal design ,sturdy build quality and small size of the hardware. The led colour is a welcome change in, at least in my setup, a sea of red leds.
The Midihub Editor was self-explanatory and worked well under Windows 10.
I like the concept of the pipes a lot. It's easy to grasp, but at the same time it offers great potential for the future.
But therein also lies my only problem with the Midihub.
I think it needs more pipes for creative usage. Like easy ways to add chance/randomness, more remap modifiers, etc…
As of now there are 5 modifier and 2 tempo pipes, but more are coming.
So far I've only been using the first four preset slots and unless my hardware setup changes a lot, I see no particular reason why I would need to use more, so the rest of the slots would be free for all kinds of MIDI mangling madness.
But maybe I'm trying to think of the Midihub as something it isn't meant to be.
These things would also add arguably unnecessary complexity.
As a central USB-MIDI router/interface between hardware MIDI gear and either my PC or iPad it works just as well and simple as I had imagined.
And mainly I've been using it just for that.
Even though much of my gear already has USB-MIDI, but this way I can avoid the audio problems that USB can introduce and it makes me more flexible with the wiring of my setup, because maximum USB-cable length is less of an issue and I don't have to use as many USB-cables.
It particularly is a fantastic addition the iPad, since my two mobile audiointerfaces/fieldrecorders don't offer any DIN-5 MIDI-IO and the small powered USB-hub I use alongside them only offers 4 USB connections. It makes it much easier to use all these cool MIDI-sequencing Audio Units with hardware.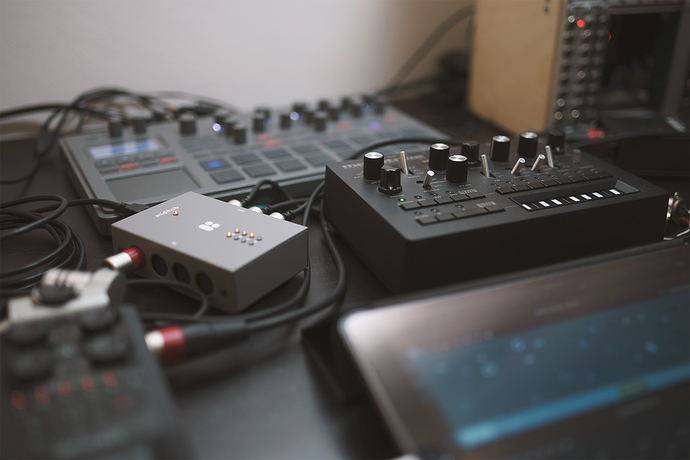 But, as stated above, there's a lot of potential in the pipes and and even with the existing ones you can add functionality to existing gear and overcome some of the gears limitations.
Here are some examples of what I've tried so far:
Adding a Korg monotribe as a third, transposeable oscillator to the Korg Monologue

Turning the Korg Electribe 2 into a multiple oscillator monosynth that can be played via one keyboard or via one pad

Turning the Korg Electribe 2 into a easy-to-operate MIDI drum step sequencer for VSTis and other MIDI gear with per drum voice groove and global swing
All in all the base functions are covered well. Pricewise I feel it should sit somewhere below 150€.
In the past I didn't really consider these kind of MIDI utility boxes or even an extra MIDI-interface, my setup is very much computer-based and most of my gear has USB-MIDI and I just lived with the problems.
Now that I've used the Midihub for a while I wouldn't want to miss it or at least something similar in my studio.
Thanks for giving me chance to check out Midihub!
I wish you the best,
computing.sound
YouTube: https://www.youtube.com/channel/UCraUPqdRcNcfGyPe6VxQEow/
Instagram: https://www.instagram.com/computing.sound/