This update focuses on fixing firmware flashing issues reported here and has the Transform pipe reworked to fix Channel Pressure transform, add event ordering control, and even more flexibility in what can get transformed into what and how.

Also 2 new examples were added, 'ProgramChange to Stop ProgramChange Start' and 'ProgramChange to Multiple Ordered Events'. They both achieve the same thing, but the latter uses a Delay and Dispatcher pipes to turn one event to be handled in multiple ways, I'm sure you will be able to figure out some useful applications for such technique.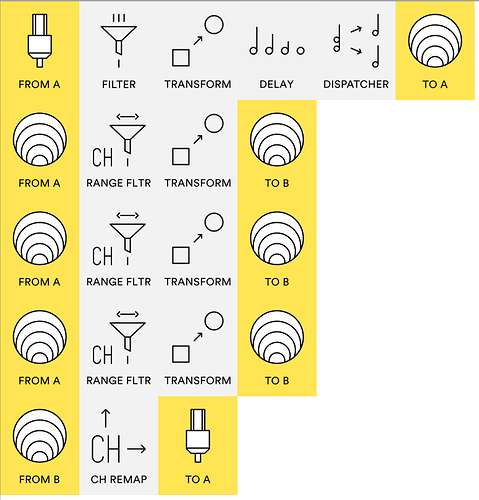 1.11.3 Editor Downloads
1.11.5 Firmware Download
Detailed Changelog
Transform pipe reworked, giving control over both data bytes for 3 byte messages, as well as data ordering control. Poly Aftertouch messages can now be transformed as well.
Allow setting Delay time to 0, so Note On and Off events get produced immediately.
Firmware flashing stability improved.
More detailed message during flashing in case an error occurs.
Duplicate note on and note off events for the same note number will get dropped at the outputs.
Firmware Upgrade Guide
See here: [Download] Midihub Firmware 1.11.4, but we recommend updating the editor first, due to flashing improvements.