Hey guys, here's a another update for Midihub, with focus on quality and usability improvements, getting ready for public release!

Please give this version a decent try and let us know if you find any issues or think something can be improved.

If it's something you mentioned before, please feel free to reiterate, so it doesn't get missed.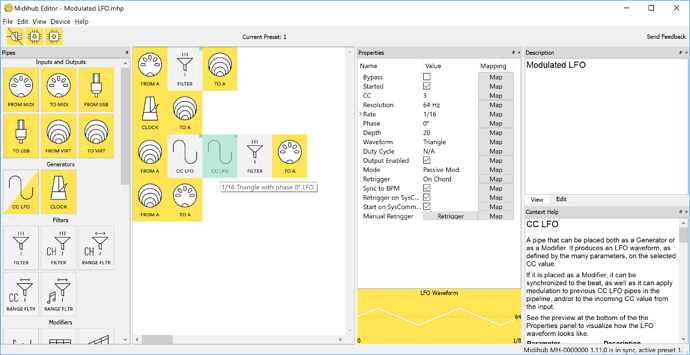 Main Changes
The 5th pair of USB MIDI ports for communication with the Editor is now implemented via a USB Serial COM port, so the MIDI ports that are not meant to be used won't appear as an option in DAWs and other software any more. Mac OS users will have to first unplug Midihub, remove the Midihub ghost from Audio MIDI Setup, and reconnect the updated Midihub for this change to get noticed by the OS.

Memory dumps containing all presets, microtunings and settings can now be exported and imported.

Pipes with MIDI mapped parameters will be marked so it's easy to find them.

Parameters like Transpose Amount will have immediate effect to processing when the value is changed, allowing to preview changes before confirming or cancelling them.

Various usability and quality improvements, see detailed changelogs below.
1.11.0 Detailed Editor Changelog
Windows editor build is now digitally signed.
Added 'Device->Export Everything' and 'Import Everything' to allow managing backups of entire memory contents.
Reworked the dialog suggesting to save/store the current pipeline when changes may get lost.
The changes done in Device->Settings will now get stored to memory on closing the dialog using the 'OK' button.
Reduced the amount of clicks required to start editing combo-box value properties such as MIDI Input source to be exactly one.
Spin box property values like Transpose semitones amount now support real time 'preview' of the value when changed using keyboard up/down keys or the arrows in the UI. The original value can be restored by pressing Escape button on the keyboard and this will not be recorded in the Undo stack, the new value gets stored otherwise. Undoing this action after confirmed edit will go back to the original value.
The default file saving location will now be the users Documents folder, if you use a different location, the last one used will be memorized in between editor sessions.
Linux editor build is now packaged as an AppImage which should be compatible with multiple different Linux distributions.
Pipes that have MIDI mapped parameters are now getting marked in the Pipeline View.
Progress dialog after every action removed (this was affecting only Linux), the actions complete too quickly for the progress dialog to be useful.
1.11.0 Detailed Firmware Changelog
The dedicated MIDI ports for communication with the editor have been reimplemented as a USB CDC serial port. (Mac OS users will have to first unplug Midihub, remove the Midihub ghost from Audio MIDI Setup, and reconnect the updated Midihub for this change to get noticed by the OS)
The activity LEDs will blink continuously in case of high activity instead of getting lit the entire time.
BPM pipe now can act on Start/Stop messages sent to Virtual Outputs.
The beat clock LED activity monitor is now reset on Start message.
Sync Delay pipe now can 'shift to the future' up to one quarter note.
Completely moved to 'major.minor.build' version numbering system, including for firmware builds.
Midihub disconnection now gets detected if the device was in bootloader mode.
A bug in Flash Memory Manager got fixed in firmware.
A bug in loading pipelines from .mhp which had MIDI mapped parameters fixed.
Other smaller bug fixes and improvements.
1.11.0 Editor Downloads
On Linux, run chmod +x on the downloaded AppImage file, then execute it either via the terminal or file browser. Installing appimaged for desktop integration is recommended - it installs the shortcut to system menu.
1.11.0 Firmware Download
1.0.0 Firmware Flasher (Required for Beta Testers)
Compatible with public release units too, so it's universal.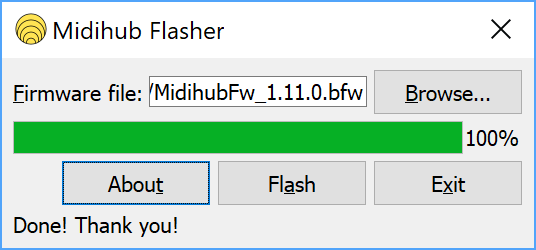 The Midihub Beta units from now on should be upgraded via the Firmware Flasher tool, as the latest version of the editor no longer can talk with the Beta bootloader version. The main firmware after upgrading will continue to work with the Beta units and the latest editor version(s) for the foreseeable future.
To update the Midihub firmware, switch it on while holding down The Button. In the firmware upgrade mode, all the LEDs should be lit up. Run the Firmware Flasher, select the .bfw file and hit 'Flash'.
* All stored presets and microtunings will be removed during the firmware upgrade process, especially when using Firmware Flasher * - fortunately starting from the 1.11.0 version, there's an option to make a backup of the entire memory contents (presets, microtunings, settings). Before upgrading to this version, you'll still have to back it up manually by loading each preset and saving them to disk with different names.